Virtual Reality at UCSF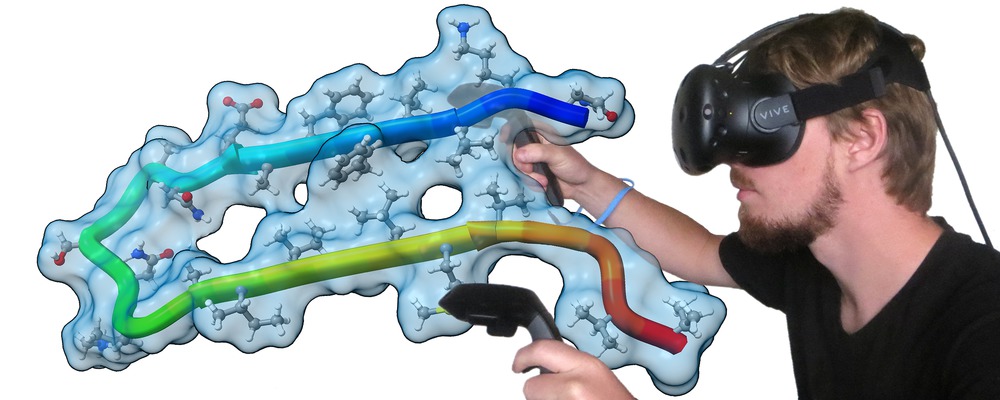 Updated July 15, 2019
Project Overview
We are developing new, cutting-edge methods for the visualization and analysis of molecules and cells using virtual reality (VR) technology for analyzing important experimental data. These novel methods will have significant impact in our understanding of important aspects of structural biology, including drug design, the functioning of complex molecular machinery, and basic cellular properties such as motility. We aim to bring VR into routine use in labs at UCSF, with suitable analysis problems in cryoEM and light microscopy, and to advance VR capabilities for analyzing ligand-receptor interactions. This work will pioneer the way so that other research labs at UCSF can more easily adopt this technology.
News
June 26, 2019: Cancer drug resistance anaylzed by UCSF researchers assisted by ChimeraX virtual reality, described in ATP-competitive inhibitors midostaurin and avapritinib have distinct resistance profiles in exon 17-mutant KIT. June 20, 2019: Influenza vaccine research discussion on the PBS news hour with NIAID director Anthony Fauci including use of ChimeraX virtual reality to look at antibody binding sites. May 2, 2019: Three new PC VR headsets coming to market Spring or Summer 2019. April 22, 2019: Dyche Mullins' lab at UCSF setup Vive Pro VR system, Windows 10, RTX 2080 graphics for 3d optical microscopy time series to study cell motility and actin dynamics. March 27, 2019: VRmol web VR app for molecular docking (using Vina) and examining genome mutations on PDB atomic models described at bioRxiv.
February 26, 2019: ChimeraX VR video tutorials for medical imaging (details), molecular models, cryoEM maps, and a look at opiod drug binding.
February 20, 2019: David Drubin and Georjana Barnes lab at UC Berkeley trying VR for lightsheet microscopy.
February 19, 2019: Cell Toss VR app by Blair Lyon at the Allen Institute for Cell Science shows 3d optical microscopy of cells in different stages of mitosis.
January 10, 2019: Yifan Cheng lab at UCSF setup MacBook Pro / eGPU / Vive Pro system for high resolution cryoEM maps.
January 9, 2019: Dr Kurtis Auguste at UCSF Benioff Children's hospital shows patients VR tour of their brain before surgery to reduce anxieties.
December 17, 2018: Matt Jacobson lab at UCSF setup iMac / Vive Pro system for studying drug binding.
November 29, 2018: Loic Royer trying Vive Pro on microscopy data at CZ BioHub.
November 20, 2018: Tests of VR on Windows laptops use with ChimeraX.
November 15, 2018: How to setup VR on Mac laptop and desktop computers for use with ChimeraX.
November 7-9, 2018: VR and AR science visualization hackathon in San Francisco hosted by Springer Nature. Sign up.
October 26, 2018: How to setup VR on Linux for use with ChimeraX.
October 23, 2018: Making Space: Molecules & Biomedical Imaging in Virtual Reality Open Swim a workshop to explore medical imaging data in VR at NC State University given by Meghan McCarthy and Phil Cruz.
October 10, 2018: Opioids bound to mu opioid receptor ChimeraX VR demo.
August 29, 2018: Nanome molecular VR for proteins and ligands. Extensive VR user interfaces. Free and commercial versions. Start-up company spun off from UC San Diego.
June 29, 2018: Nano Simbox iMD virtual reality interactive molecular dynamics developed by Interactive Scientific.

Sampling molecular conformations and dynamics in a multiuser virtual reality framework.
O'Connor M, Deeks HM, Dawn E, Metatla O, Roudaut A, Sutton M, Thomas LM, Glowacki BR, Sage R, Tew P, Wonnacott M, Bates P, Mulholland AJ, Glowacki DR.
Sci Adv. 2018 Jun 29;4(6)

June 28, 2018: ChimeraX VR article published describing drug binding site and light microscopy capabilities.

Molecular Visualization on the Holodeck.
Goddard TD, Brilliant AA, Skillman TL, Vergenz S, Tyrwhitt-Drake J, Meng EC, Ferrin TE.
J Mol Biol. 2018 Jun 28. pii: S0022-2836(18)30696-X

June 24, 2018: ConfocalVR article published describing 3D light microscopy visualization.

ConfocalVR: Immersive Visualization Applied to Confocal Microscopy.
Stefani C, Lacy-Hulbert A, Skillman T.
J Mol Biol. 2018 Jun 24. pii: S0022-2836(18)30664-8.

September 18, 2017: UCSF professors Derek Harmon and Kimberly Topp using VR to teach anatomy.
Research Applications
Drug binding sites
Matt Jacobson lab
Weekly group meetings using VR to analyze ligand binding using ChimeraX. Contact Wilian Cortopassi Coelho.
p97 inhibitors
Michelle Arkin lab
Inhibitors of p97 involved in protein recycling and possibly neurodegnerative disease. Virtual reality demonstration for UCSF Campaign.
Antibiotic resistance
Danica Fujimori lab
Mechanism of post-translational methylation of a ribosome nucleotide causing antibiotic resistance. Shown in VR for Byer's award reception.
Cell motility 3D light microscopy
Dyche Mullins lab
ChimeraX VR displays 3D microscopy time series. Neutrophils crawling through collagen filaments.
Calcium signaling in neurons
Bo Huang lab
Dan Xie observes calcium signaling in 8000 zebrafish neurons using 3d light-sheet microscopy time series. Demonstrated in VR for Byer's award lecture using ChimeraX VR.
Neurodegeneration in zebrafish
Steve Finkbeiner lab
Neurodegeneration in zebrafish in 3d light microscopy time series from Jeremy Linsley at Glastone Institute shown with ConfocalVR.
DNA origami virtual lab
Shawn Douglas lab
Interview with Shawn on the Foo Show about his VR nano-machine lab simulation.
Brain disorder treatment
Adam Gazzaley lab
Neuroscape.
VR Software for Research
ChimeraX VR
Tom Ferrin lab


The ChimeraX visualization package can display atomic structures and microscopy data with the vr command. A tutorial explores mutations in a scorpion toxin.

Collaborative structure viewing
Tom Ferrin lab


ChimeraX VR meeting command allows multiperson viewing of structures and microscopy data.
ConfocalVR
Tom Skillman and Caroline Stefani at Benaroya Research Insitute


ConfocalVR displays multichannel 3D light microscopy data.

Protein Databank VR viewer
Tom Skillman at Benaroya Research Institute


AltPDB collaborative viewing of Protein Databank molecular structures.
Nanome
from Nanome, Inc.


Nanome allows display and analysis of molecular structures of proteins including multiperson collaborative sessions.

syGlass
from IstoVizio, Inc.


syGlass displays volumetric and microscopy data, designed for VR.
Software for Education
Molecular Zoo
Alan Brilliant in Tom Ferrin lab


Molecular Zoo is a biomolecule education VR program that lets children handle fully flexible molecules of life: water, aspirin, saturated fat, carbon dioxide, caffeine, ATP.

Peroxiredoxin Fish Tank
David Doak at Norwich University of the Arts
Nick Young and Bianca Haux at the Centre for eResearch at the University of Auckland
Juliet Gerrard and Michael Barnett from the University of Auckland School of Biological Sciences


Fishtank is a STEM education application showing the pH dependent formation of protein dimers, rings and tubes of an antioxidant enzyme. Currently (Sept 2018) only Unity source code releases are available at Github, but a binary release for Windows is coming.
Protein Backbone Explorer
David Doak at Norwich University of the Arts


Work in progress: interactive polypeptide backbone viewer for teaching using Unity and Oculus SDK. Currently (Sept 2018) only Unity source code releases are available at Github, but a binary release for Windows is coming.

Nano Simbox iMD
Interactive Scientific


Nano Simbox iMD allows exploring flexible molecules with molecular dynamics computed in real-time on a server. It has four scenarios, handling Buckminster fullerene, threading methane through a carbon nanotube, changing the screw-sense of an organic helicene molecule, and tying a knot in a 17 amino acid peptide. Developed by Interactive Scientific in collaboration with the Glowacki lab at University of Bristol, and described in this article.
Water VR
Jonas Boström and Magnus Norrby


Water VR shows water in gas, liquid and solid phases for teaching chemisty, specifically aimed at 7th grade students. Developed by EduChemVR.
VR Equipment
Shared VR equipment
Tom Ferrin lab


An HTC Vive virtual reality headset for viewing your molecular structures or microscopy data is available at the Visualization Vault in Genentech Hall at UCSF Mission Bay. Contact Tom Goddard.
Headset Notes
We use Windows 10 Home on our VR computers. We use primarily SteamVR to interface to all headsets. Wikipedia headset comparison.
Graphics Card Notes
We have extensive experience with the GPUs noted below and have also been experimenting with others, so this list may be a bit out of date:
Nvidia GTX 1080 - Main card we have used at UCSF. No problems observed. 8 Gbytes of memory.
Nvidia Quadro P6000 - Primarily because of its high price, we recommend this card only for special applications. We use this for both LCD shutter glasses and VR. The Quadro cards provide a 3-pin DIN connector for the left/right eye synchronization with shutter glasses. The IR emitter used with shutter glasses is overpowered by Vive (version 1) base stations so shutter glasses cannot be used with Vive base stations plugged in. This card has 4 display port outputs and no HDMI output. The Samsung Odyssey VR headset would not start using an HDMI to DisplayPort adapter with the Windows Mixed Reality setup program giving an error (Sep 2018). 24 Gbytes of memory. This card was generuously provided by NVIDIA Corporation's GPU grant program.